2021 Annual

R

eport
2021 in Review: The CalAIMH Board of Directors' Perspective
Last year was another challenging year for California's young children, their families and
those of us who serve them. Part of what made it hard were the disappointments. We
had the vaccine, and the numbers were coming down. Then came Delta followed by
Omicron, and we were right back in the depths of the pandemic. Hate crimes rose
dramatically. And, as the virus and its accompanying financial and psychological
stresses ripped through communities of color, we were increasingly aware of the effects
of structural inequities on so many of our families.

The past two years have had serious effects on our youngest children. A new study by
Lauren Shuffley and her colleagues at Columbia using the ASQ-3 shows that "infants
born [between March and December 2020] had significantly lower scores on gross
motor, fine motor, and personal-social subdomains compared with a historical cohort of
infants born before the onset of the COVID-19 pandemic." *

Through all of this, CalAIMH strove to be a beacon for relational health and advocacy.
It was a year of growth as well. We started the year with just under 150 members, and
ended with over 170.

We worked hard to offer our members opportunities to learn, reflect and connect. The
Training and Education Committee offered webinars on Reflective Supervision, Building
Resilience in Early Childhood Education Settings and Engaging Fathers. The
Communities of Practice Committee offered a series of intimate, interdisciplinary
conversations on such topics as having hard conversations and supporting all parents in
the child welfare system. Board members also hosted monthly happy hours, simply
opportunities to get to know and chat with other members from across the state. As
additional member benefits, we offered endorsement support opportunities as well as
reduced fee reflective practice sessions.

We remain optimistic that 2022 will be a better year. Covid-19 numbers are down in
California. The murder convictions in the killings of George Floyd and Ahmaud Arbery
show us that the justice system still operates. The state will be investing in supporting
our early care and education staff with Early Childhood Mental Health Consultation.
And CalAIMH will continue advocating for relational health and providing opportunities
for those of us across all the fields aiding families can connect and find others who care
deeply.

The Board welcomes you to the website. Check out upcoming events. We look forward
to meeting you there.
* Shuffrey LC, Firestein MR, Kyle MH, et al. Association of Birth During the COVID-19
Pandemic With Neurodevelopmental Status at 6 Months in Infants With and Without In
Utero Exposure to Maternal SARS-CoV-2 Infection. JAMA Pediatr. Published online
January 04, 2022. doi:10.1001/jamapediatrics.2021.5563


Membership Report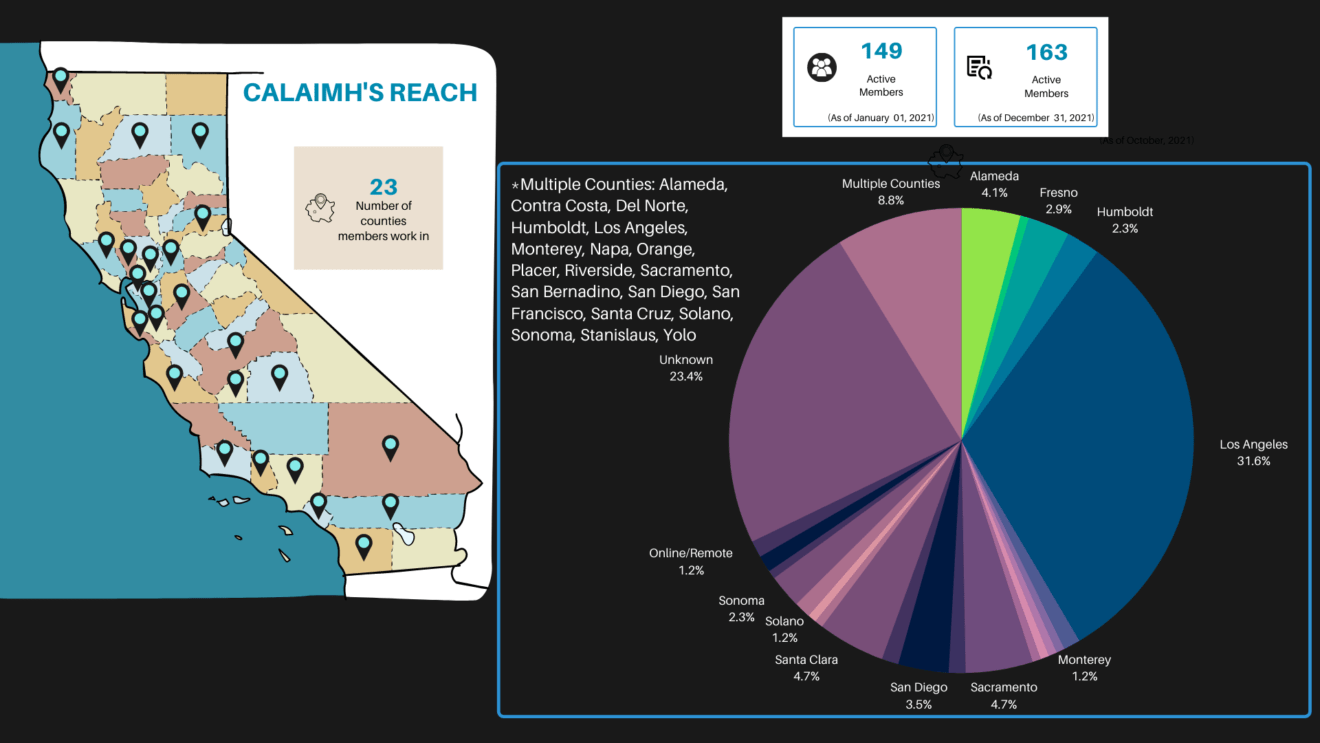 Currently, many of our members are in the Los Angeles area, with representation throughout the state. growth: We are delighted to have continued to grow over the past year. As detailed in the Membership
report, we grew from 149 members to 163 members in 2021.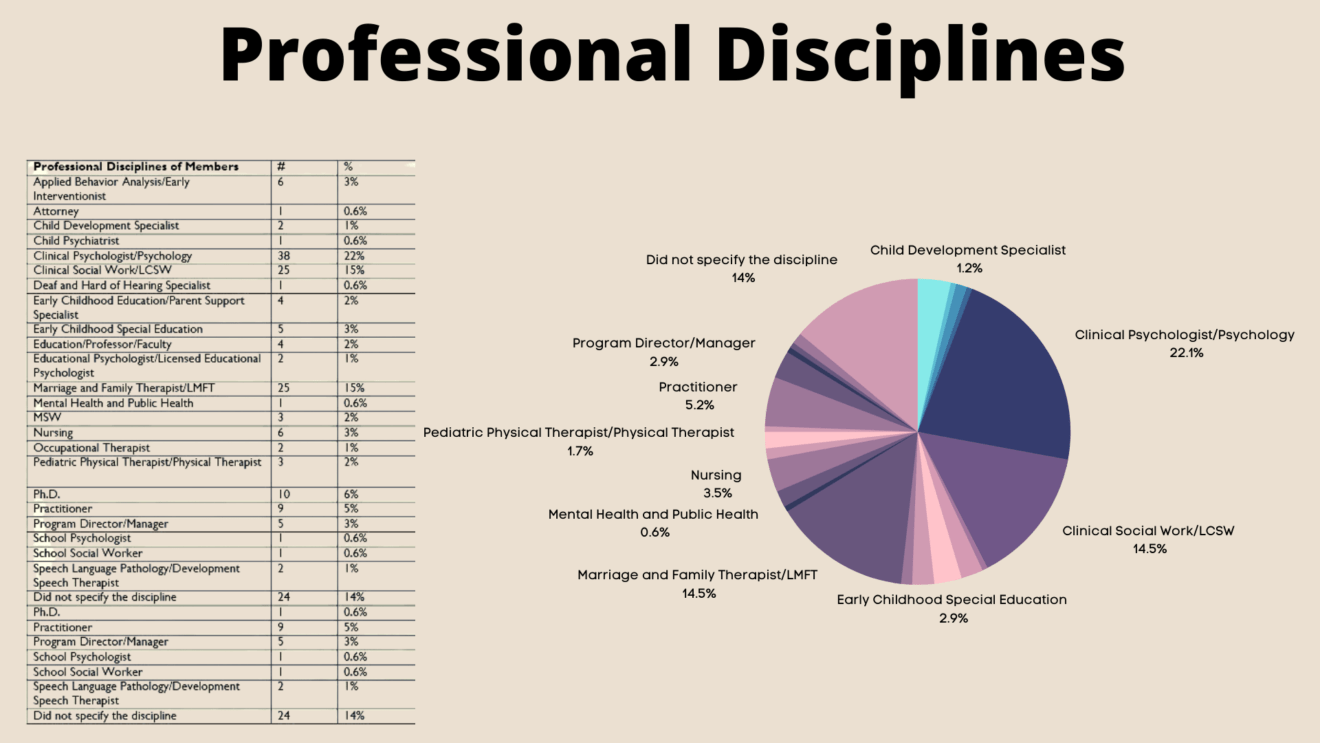 A quarter of our members are Clinical Psychologists, followed by LCSWs and LMFTs, along with a blend
of other disciplines that support infants and families.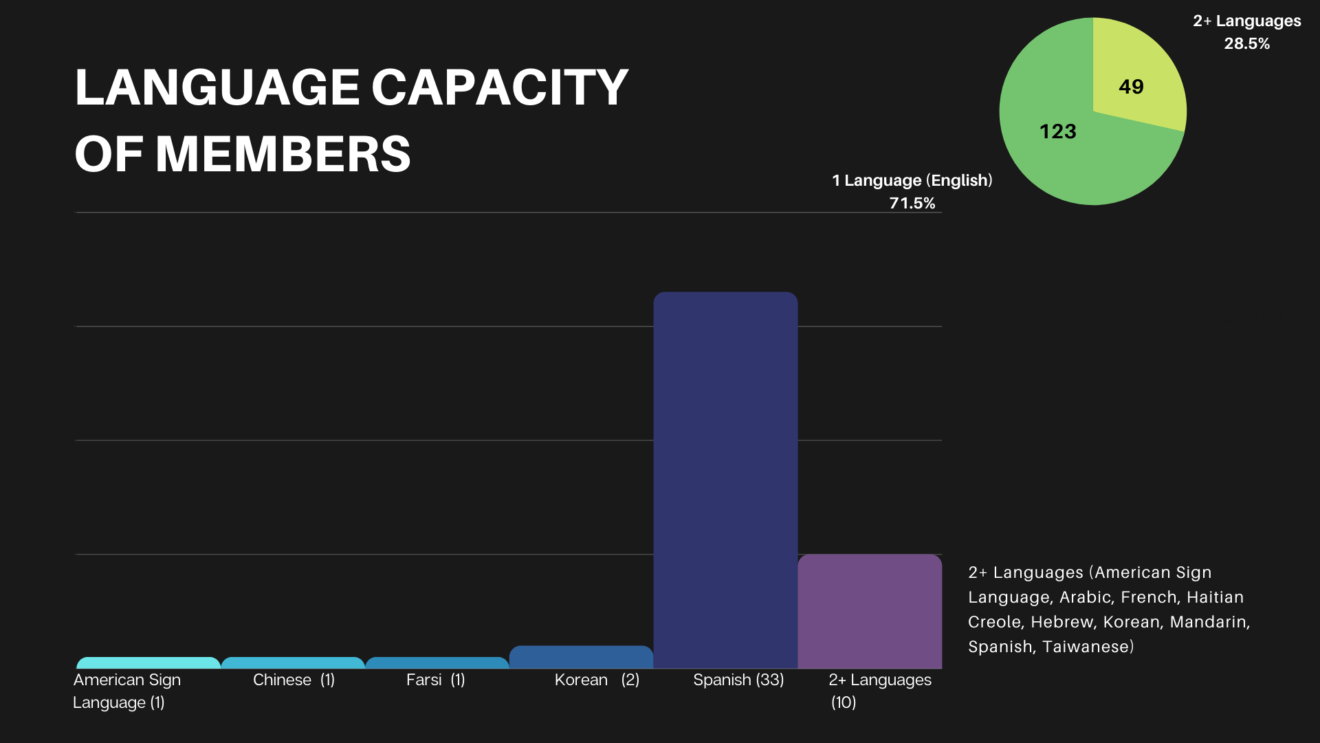 While most of our members are monolingual English speakers, we have a growing representation of
bilingual members, including Spanish-speaking, Korean, Farsi, Chinese and a variety of other languages,
including ASL.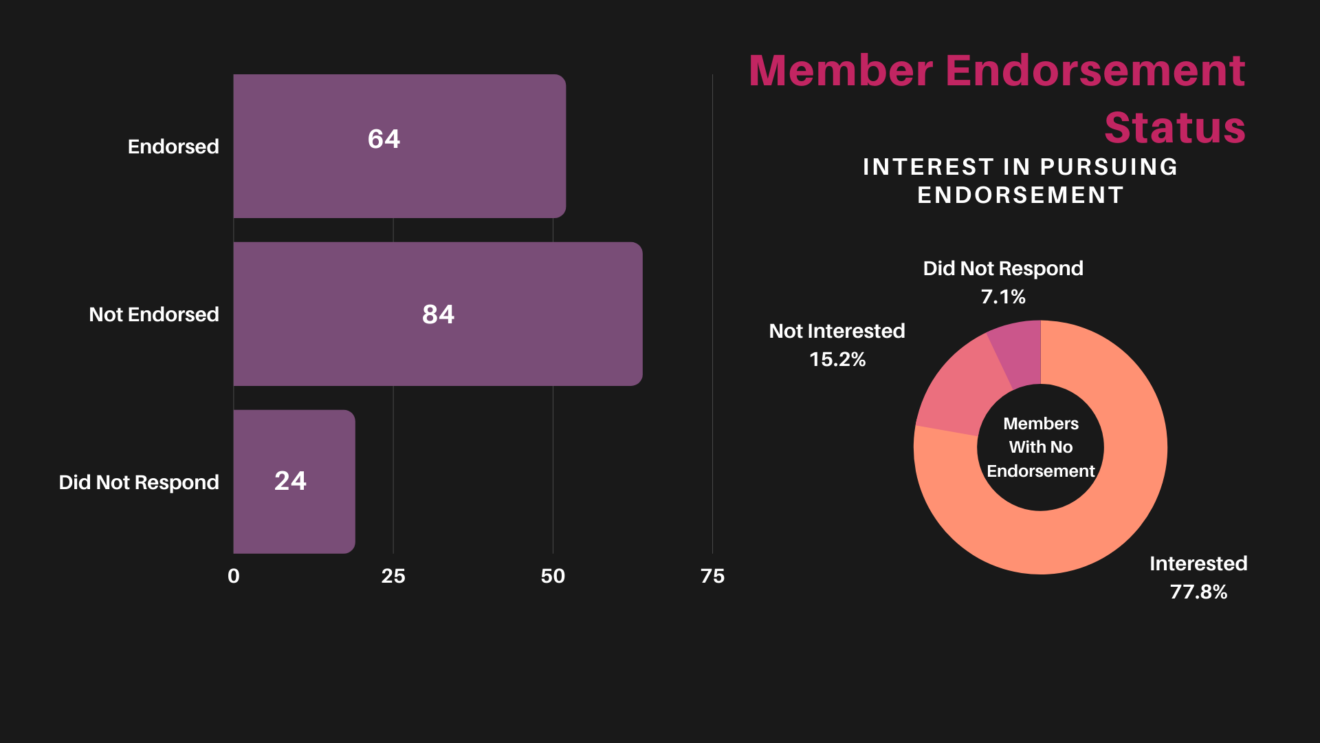 The field of Infant-Family Early Childhood Mental Health, or IFECMH is a broad-based, transdisciplinary field of study, research, and practice focused on enhancing overall development, social and emotional well-being, and relational health. The California Center for Infant-Family and Early Childhood Mental Health is the California entity that approves candidates for endorsement. CalAIMH supports members interested in seeking endorsement by providing office hours where members can connect with others who are compiling their endorsement materials and get support from an endorsed member. If you are interested in receiving endorsement support, please email training@calaimh.org to request more office hours to be available in the future.
Fiscal Report