May 2022 Newsletter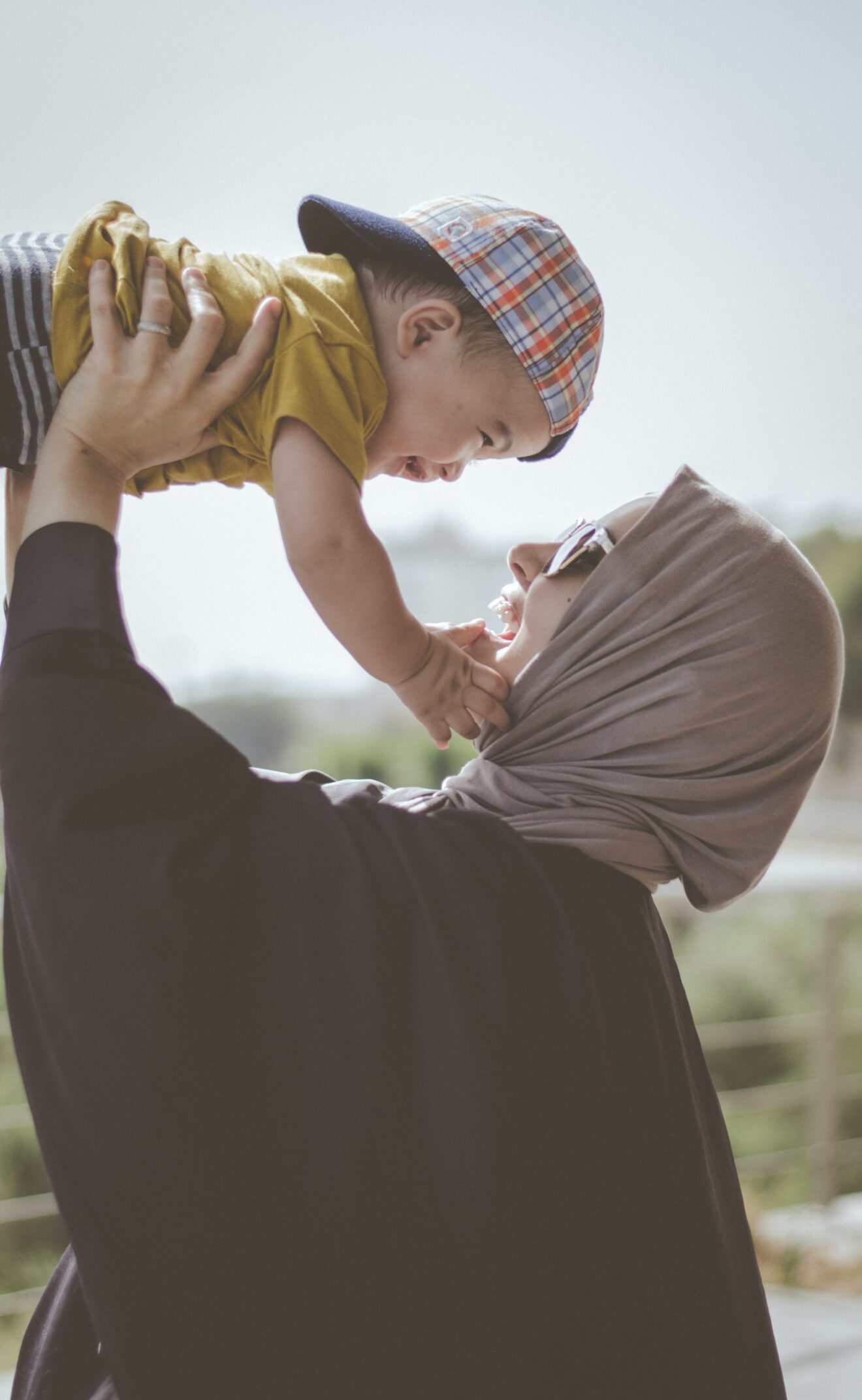 We've been thinking...
A subcommittee of the Social Justice committee recently completed a review of our social marketing presence. Past president Marian Williams requested that the group use an equity lens to look at the way we present ourselves. The subcommittee consisted of members Bronwyn Talbot, Dawn Meggerson, and Board Liaison Marcy Erickson.


The subcommittee presented its findings at the May's Board and Co-Chair meeting. The results were both valuable and instructive. Importantly, the results raised initial questions about who we are and who we want to be as a basis for thinking more deeply about our website and social media presence.
One key question they raised is: whom is CalAIMH serving? It is clear that we are primarily an organization of people who serve families with young children. But what about parents? We have a membership category for parents, but not much in the way of resources. Nor are there activities or systems that would help us hear from and advocate for their voices. Secondly, are the efforts and actions we are investing in as an organization aligned with our current aim to build community and highlight diversity of practice and identity amongst our membership? This conversation clearly welcomes the voices of all member as we shape our future together.


Another major conversation was stimulated by the group's review of our membership fee structure. There are categories for students and parents, but professionals at all levels pay the same fee. The reviewers pointed out that, while we strongly encourage transdisciplinary members, the one-price-fits-all professional membership reflects the larger structural inequities in our fields: those of us who have benefited from more opportunities and privileges can more easily afford to benefit from membership. Some of this unfairness will be alleviated by Dr. Barbara Stroud's generous contribution creating the Amanda Ison Diversity Scholarship. But the reviewers recommended some changes in the fee structure and outreach that could make more permanent changes that reflect our commitment to equity.


We want to thank the Social Justice Committee and its subcommittee for helping us see ourselves through an equity lens. We have some work to do to ensure that we are living up to our ideals, creating an inclusive community promoting the relational health of California's young children. At our next board meeting, we will discuss next steps. Watch the next newsletter for an update. And if you want to be involved, please contact Richard Cohen, our Board President at hello@calaimh.org


The CalAIMH Board of Directors
Social Justice Community Circle: A Safe Space for Brave and Necessary Conversations
The Social Justice Committee is sponsoring a monthly reflective space for peer consultation. The goal of the group is to provide a space for CalAIMH members to reflect on their work through a social justice lens with the support of their colleagues. In planning for the group, the social justice committee is asking members to complete a brief survey to help structure the space in a way that will best meet the needs of our members. Group dates and time to follow!


Upcoming Member Benefit:
Endorsement Support Hour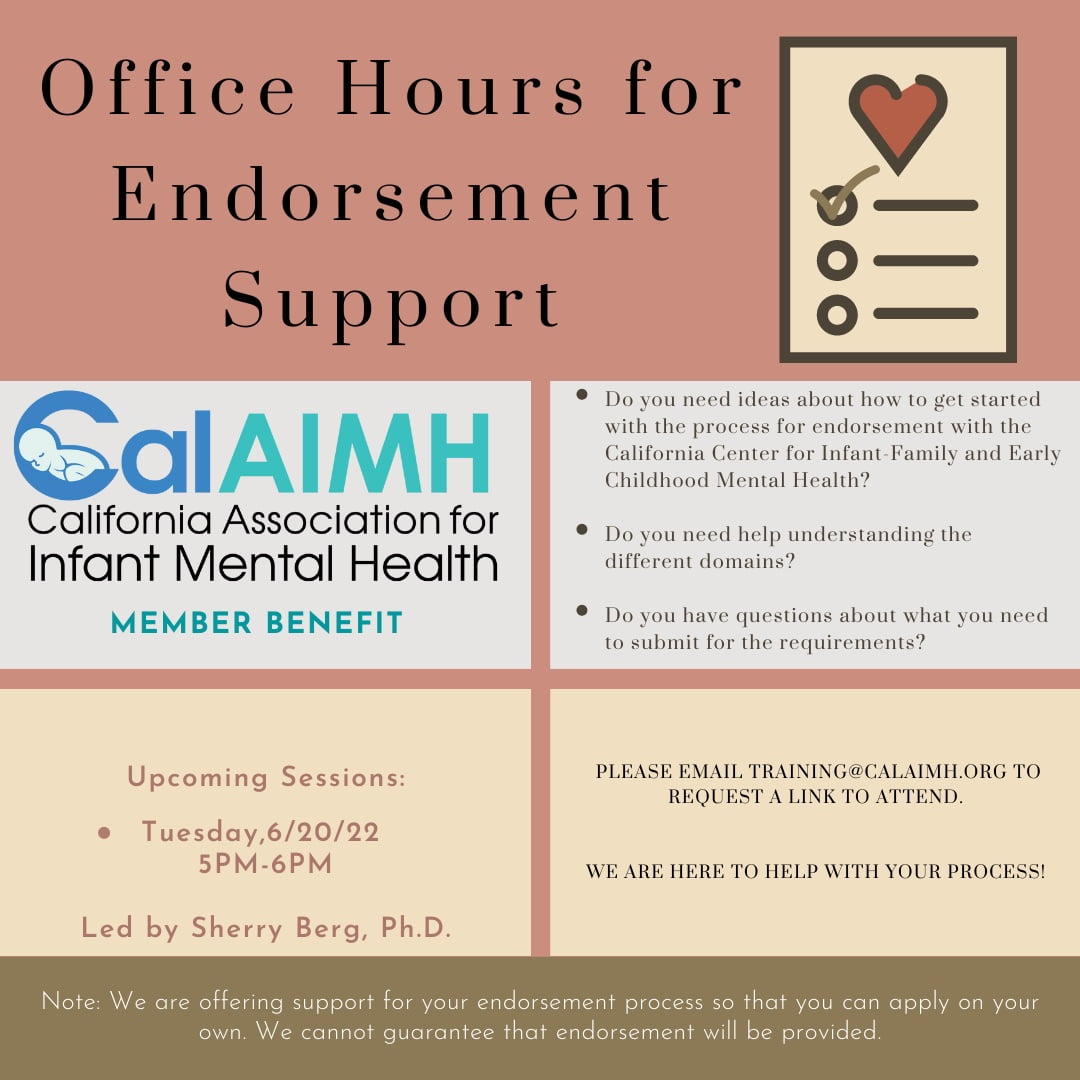 Not a member and want to take advantage of these great opportunities?
Did you know?
CalAIMH is updating its bylaws and all members are invited to the board meeting to be held on June 3rd, 4-5 pm. If you are interested in attending and have not received the email notice with invite information, please contact hello@calaimh.org.
Picturing Reflection - bringing reflective supervision strategies to video for training and teaching support. The California Association for Infant Mental Health is pleased to be partnering with the Picturing Reflection team in this project in collaboration with the California Center for Infant-Family and Early Childhood Mental Health at WestEd and the Alliance for the Advancement of Infant Mental Health. The Picturing Reflection team is recruiting endorsed reflective practice facilitators, supervisors, consultants, and mentors to participate in this project

to create a collection of video clips that demonstrate specific areas of Reflective Practice and Mentorship

. Go to this link for more information.
Meet a CalAIMH Member
Lisa Althen, Ph.D.
Lisa Althen, Ph.D is a licensed psychologist and has worked for the Los Angeles Department of Mental Health (DMH) for over 20 years. She is a supervising psychologist at TIES for Families - South Bay, a DMH children's clinic. She carries a caseload and provides individual and group reflective supervision for clinicians.
Dr. Althen received her degree in Clinical Psychology at the California School of Professional Psychology, Los Angeles, with an emphasis on health psychology. She subsequently completed the post-graduate certificate program in Infant-Preschooler Mental Health at the California School of Professional Psychology and then the Napa Infant-Parent Mental Health Fellowship. She specializes in early childhood mental health, trauma treatment, and adoption-specific treatment with children involved with the Department of Children and Family Services. She is endorsed in the state of California as an Infant-Family and Early Childhood Mental Health Specialist and Reflective Practice Facilitator II. She utilizes several evidence-based treatments, including Child-Parent Psychotherapy, Trauma-Focused Cognitive Behavioral Therapy, Mindful Parenting Groups, and the Reflective Parenting Program. Dr. Althen was previously the training coordinator for Project ABC, a SAMHSA grant for a system of care for children aged birth through five in Service Area 8. In this role, she collaborated with subject matter experts and agencies serving young children to offer training to promote providers' capacity to serve young children and their families. She continues to provide countywide training to mental health clinicians on the birth to five core competencies, including the ICARE assessment, DC:0-5, Brain Development, Trauma, and Attachment. In addition, she provides training in attachment for home visitors associated with LA Best Babies Network and presentation on temperament and attachment for families who are interested in adopting children from the DCFS system.


Dr. Althen has a passion for supporting young children and their families to build strong relationships and overcome trauma as well as stressors. The tagline for Project ABC was "Relationships Matter." This is true for relationships between children and their caregivers, relationships between clients and clinicians, and relationships among providers and systems that serve young children. Dr. Althen is invested in promoting research-informed, reflective relationship-based practice with young children and their families, and among the providers that serve them.


In her personal time, Dr. Althen enjoys spending time with family (including her dog), reading, bike riding, and the beach.
The Marketing Committee Needs You!!
Do you enjoy posting on social media? Are you interested in learning new skills? Are you passionate about CalAIMH and want to increase our reach? Join the marketing dream team today!
Attention All Members!
Work on a common cause or spark your creative channel. We would love to welcome more members to be involved in the different committees. Here are the meeting times for each committee:

Communities of Practice:

The third Monday of the month at 7 pm

Marketing: The second Monday of the month from at 5 pm

Membership and Bylaws: The second Thursday of the month at 6 pm

Policy and Advocacy: The last Thursday of the month at 7:30 am

Training and Education: The third Monday of the month at 5 pm

Social Justice: The third Monday of the month at 3:30 pm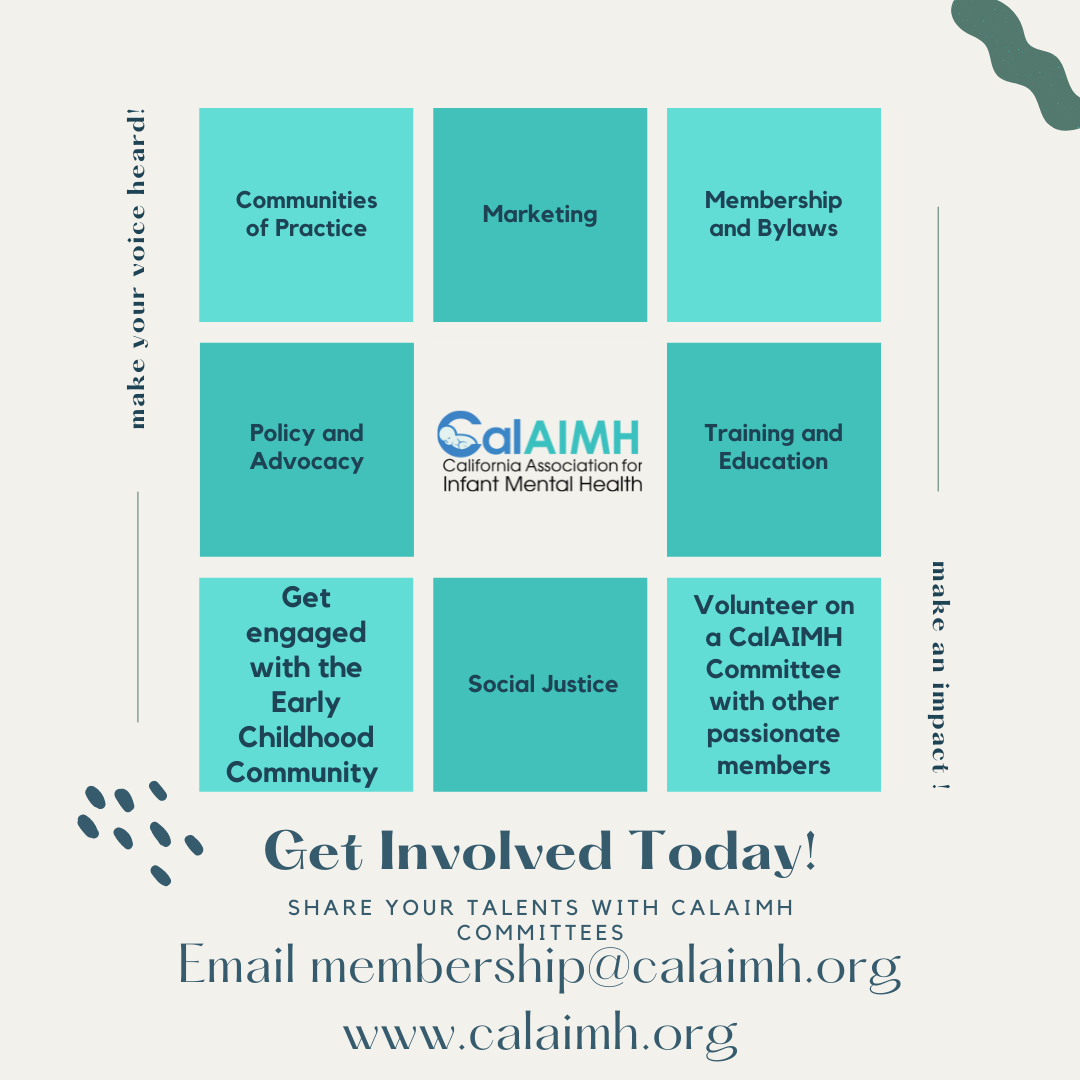 In Case You Missed It (ICYMI)
Good News Central
Members: Do you have good news to share regarding your career or other ventures? Please go to your member portal to submit your news. You can include anything professional and it will be posted publicly on our website.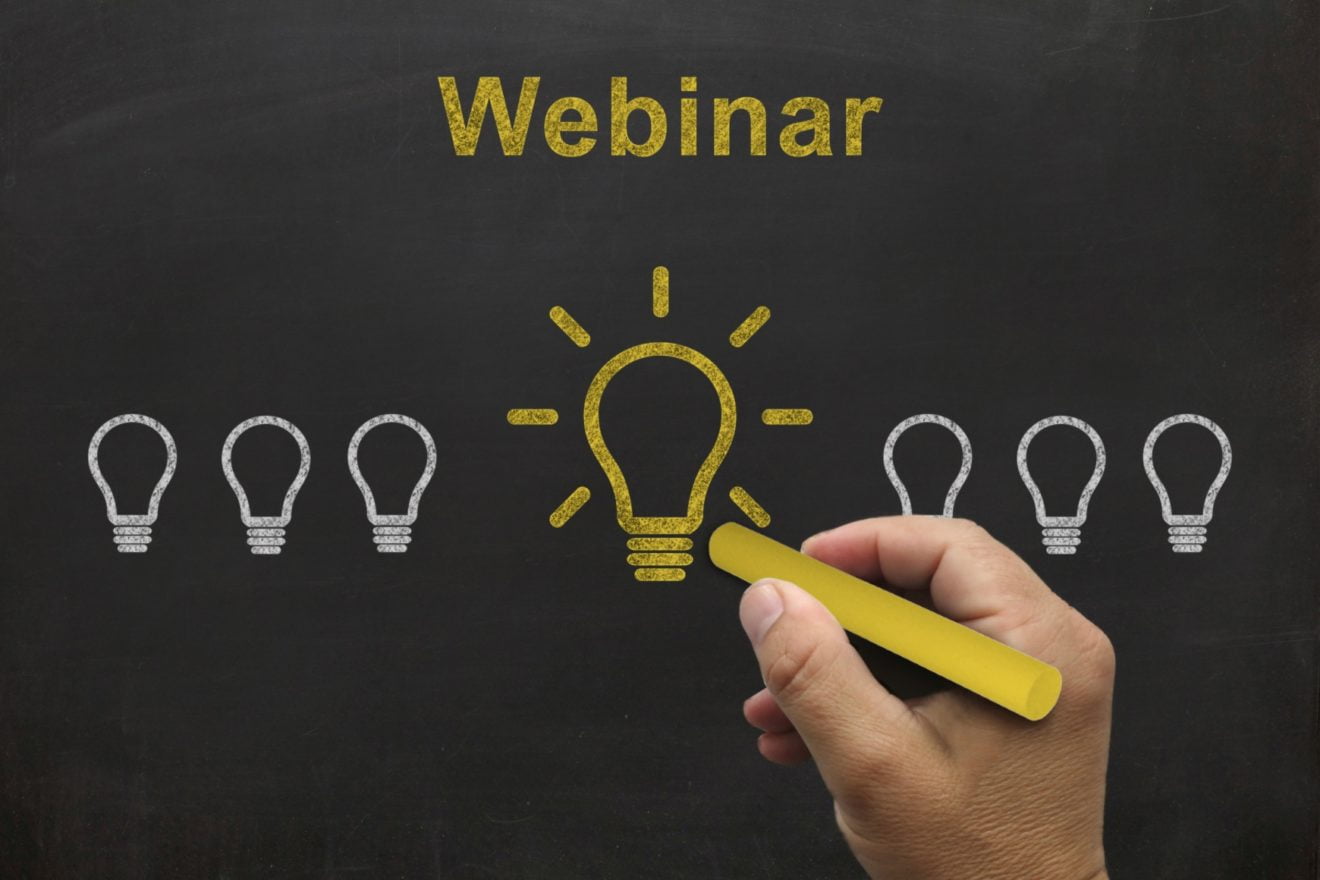 CalAIMH is always looking for more training topics and webinar speakers.
Please note: This newsletter's content represents a collection of submitted information provided to the CalAIMH Marketing Committee, which is comprised of volunteer members.