November 2021 Newsletter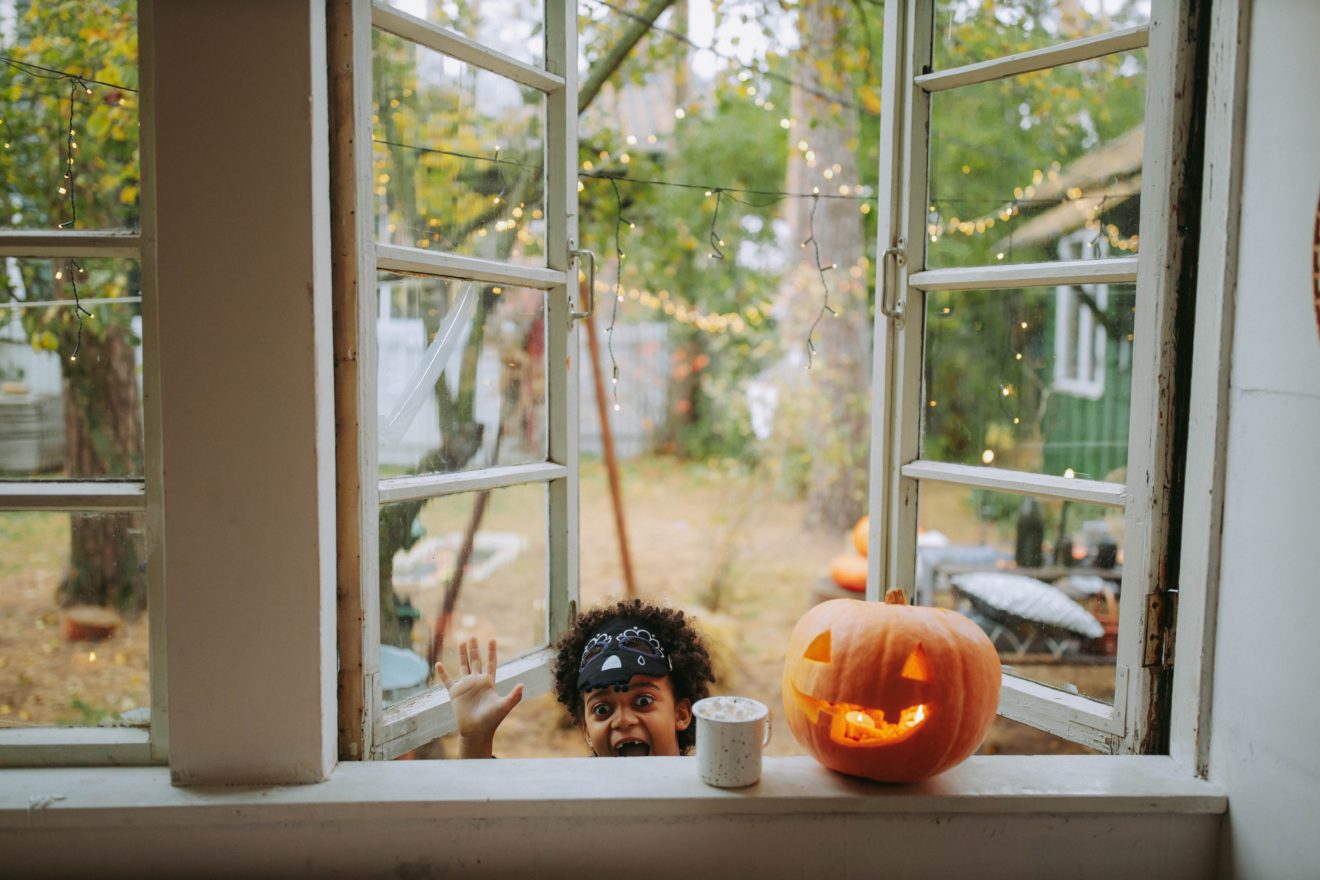 Welcome Message from Our New President:
It is an honor to move into the role of president of CalAIMH, particularly following in the footsteps of our amazing past presidents, Barbara Stroud and Marian Williams. Under their leadership we have grown both in numbers and in our offerings to members. I am hopeful we can continue that trajectory.

We are a remarkable organization. If you look at our website, it is all about relationships. Our vision is for "relational health." Our purpose is to "promote caregiver-child relational approaches." And our mission is to be "relationally-informed." One of the things that makes me most passionate about CalAIMH is my experience that this commitment to relationships extends to the way we operate. Although almost everything we do is on Zoom, I feel connected to the Board and committee members I work with. When the pandemic hit, we were worried that many of our members would be isolated. Experienced facilitators of reflective practice volunteered to offer groups to members. And we started monthly happy hours.

I am hopeful you have experienced that feeling of connection to CalAIMH and our members. We are an all-volunteer organization, and we are always looking for new leaders. Check out our committees. Sign up for one of our trainings. Drop into one of the happy hours. I look forward to building new relationships with many of you over the next two years.


Reflections on The CalAIMH Journey
I must say, that experience with Zoom meetings that I gained through CalAIMH had unexpected benefits! I learned that relationships, connections, bonding, and growth can happen across counties, across disciplines, and across generations, without ever meeting in person.
As the murder of George Floyd rocked the country in the summer of 2020, I felt the strength of our CalAIMH community leaning on one another, reflecting together on how we could make a difference in
combatting injustice and racism and supporting our most vulnerable families in feeling held and loved. The CalAIMH Social Justice Committee was born and is helping to inform our collective work, guide our
reflections, and ensure that our organization champions social justice in all that we do.

Our Board engaged in a strategic planning retreat in June 2021. We identified three key goals and strategies to guide our work in the coming years: (1) Inform the public about infant mental health and CalAIMH; (2) Influence infant mental health policy in meaningful ways; and (3) Influence and strengthen the interdisciplinary infant mental health workforce. As an outgrowth of strategic planning, we have launched the process of creating multimedia educational and inspirational materials. We have made efforts to engage more disciplines in CalAIMH and to ensure our training offerings are appealing to members across disciplines. We are eager to engage more members in our policy efforts and encourage you to email hello@calaimh.org if you are interested in joining our policy committee. You don't need any prior experience! Just a willingness to learn and contribute.

As I move from President to Past President, my personal goals for the next two years will be to support member engagement in CalAIMH committees, and to develop mentoring opportunities for CalAIMH
members who wish to partner with leaders in the field to grow your own capacities and make your voices heard.

I am immensely grateful to Richard Cohen, PhD, who is stepping into the role of President and who I look forward to continuing to work with; his wise, patient, thoughtful, and creative approach to leadership is much appreciated. And to Barbara Stroud, PhD, our Founding President, thank you from the bottom of my heart for your enduring compassion, guidance, and rock-solid support. The seed you planted is flourishing.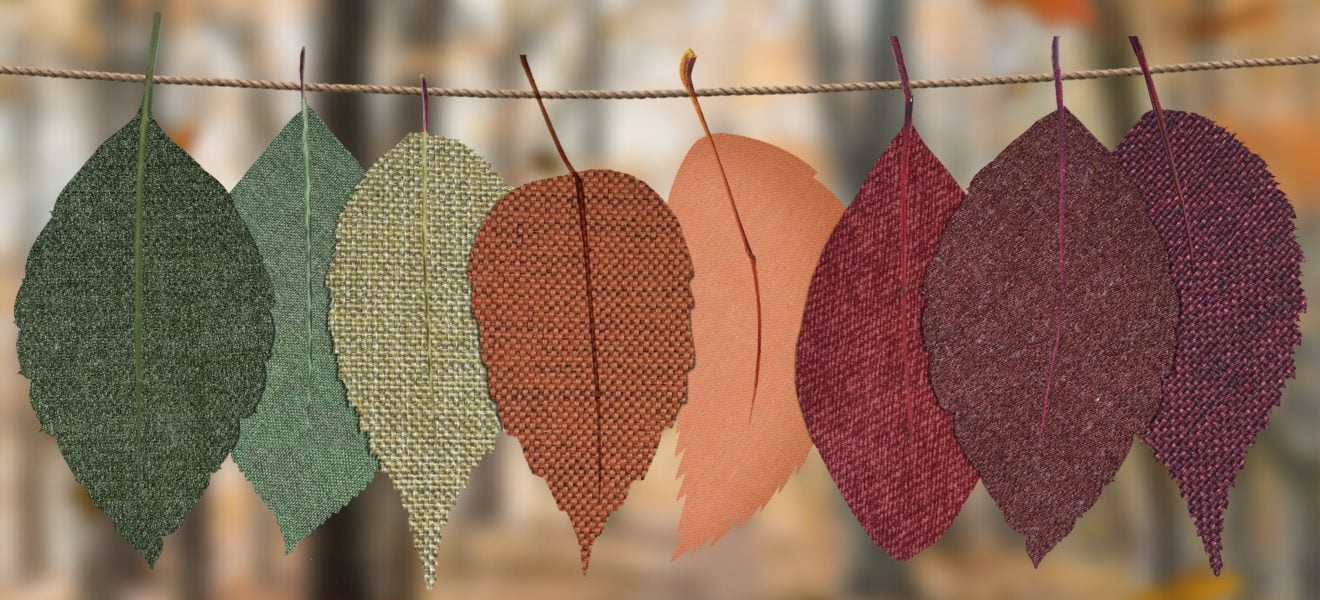 Message from Inaugural CalAIMH President:
It has been both an honor and a gift to serve as the inaugural CalAIMH president. From the very beginning of our journey significant principles emerged. We, the CalAIMH founding committee and inaugural board of directors, were committed to representing diversity within our leadership. Diversity of profession, race, ethnicity, nation of origin, region of the state, age and more. Our hope was that members would not only see themselves within the membership of our board of directors' but also imagine themselves as emerging leaders.


Additionally, as an inaugural board of directors we wanted to model a relationship first approach to leadership, thus establishing and maintaining monthly reflective practice calls for all CalAIMH leadership. Reflective practice has remained a cornerstone of the CalAIMH community. Moving forward, if I have left CalAIMH with a commitment to diversity and reflective practice relationships, I have done well. I am excited to see how the next generation of leaders will advance the humble foundations, the inaugural board has outlined. There is much more work to be done, and more leaders are emerging daily. Be an active participant in this moment of change. Congratulations to the 2022 CalAIMH Board of Directors.


CalAIMH 2022 Board of Directors
A warm welcome to our new and continuing Board of Directors!

President: Richard Cohen, Ph.D
President Elect:

Freda Kaprielian, M.A.

Past President: Marian Williams, Ph.D
Board Treasurer: Wendy Lee, Psy.D
Board Secretary: Desiree Yoro Yoo, LCSW
Board Member at Large: Adriana Cuestas, Psy.D
Board Member at Large: Irina Quebles, Psy.D
Board Member at Large: Lara Elfstrand, M.A.
Board Member at Large: Marcy Erickson, RN, BSN, PHN
Board Member at Large: Robert Rowen-Herzog, Ph.D
Board Member at Large: Steven Loreus, MA, BCBA, LBA
Board Member at Large: Vasudha Narasimha, LCSW
Monthly Happy Hour
Come connect with other CalAIMH members each month! Members are encouraged to bring a friend that might be interested in CalAIMH. Registration information will be sent out each month to members via email. Here are the details for Happy Hour for the next two months:

Wednesday, November 17th 5 pm - 6 pm
Tuesday, December 7th 5pm - 6pm
Spread the Holiday Cheer this Season!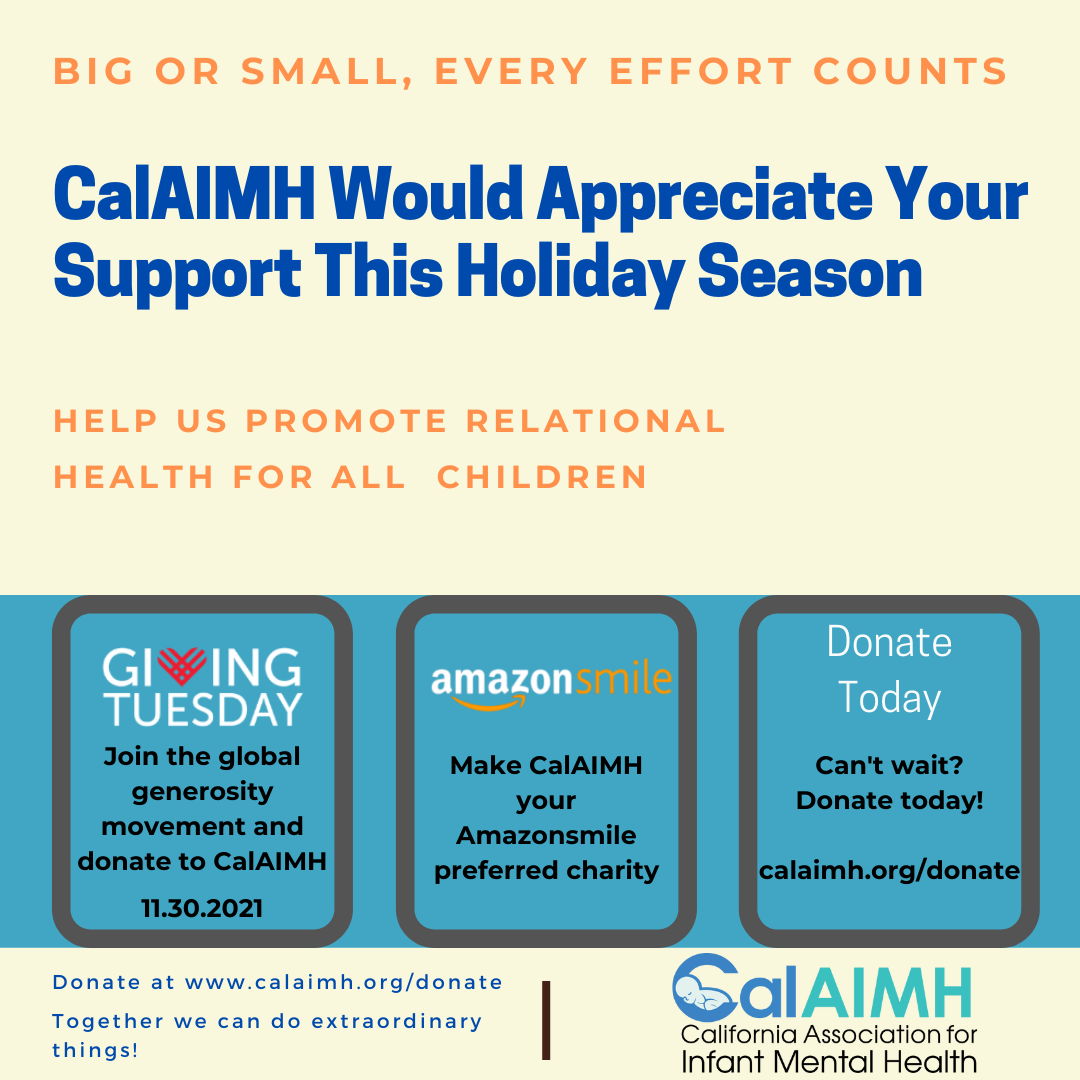 The Marketing Committee Needs You!!
Do you enjoy posting on social media? Are you interested in learning new skills? Are you passionate about CalAIMH and want to increase our reach? Join the marketing dream team today!
Meet a CalAIMH Member
Linda Longserre, LMFT, LPCC
Linda is a Licensed Marriage and Family Therapist and Licensed Professional Clinical
Counselor. She has worked in community based mental health for over 20 years and maintains a small private practice.
Linda's interest in infant mental health began while working with children involved in the foster care system, having witnessed the pervasive impact of early childhood trauma. As a therapist, trainer, consultant, clinical supervisor, and Reflective Practice Mentor, it has been her passion to support the development of healthy attachment relationships through the creation of safe, non-judgmental, and supportive mental health practices.


Throughout her career, Linda has been a champion for the development and support of informed and empowered infant mental health providers. The foundation of her work is based on a love of meditation, mindfulness self-compassion, self-awareness, and kindness. With curiosity and respect for self-determination and the unique journey of each person, Linda hopes to continue to share the respectful practice of reflection with others. The world can be a difficult place. We lift each other up when we truly "see" one another with open hearts and kind eyes.
Attention All Members!
Work on a common cause or spark your creative channel. Click below or email: membership@calaimh.org for more information.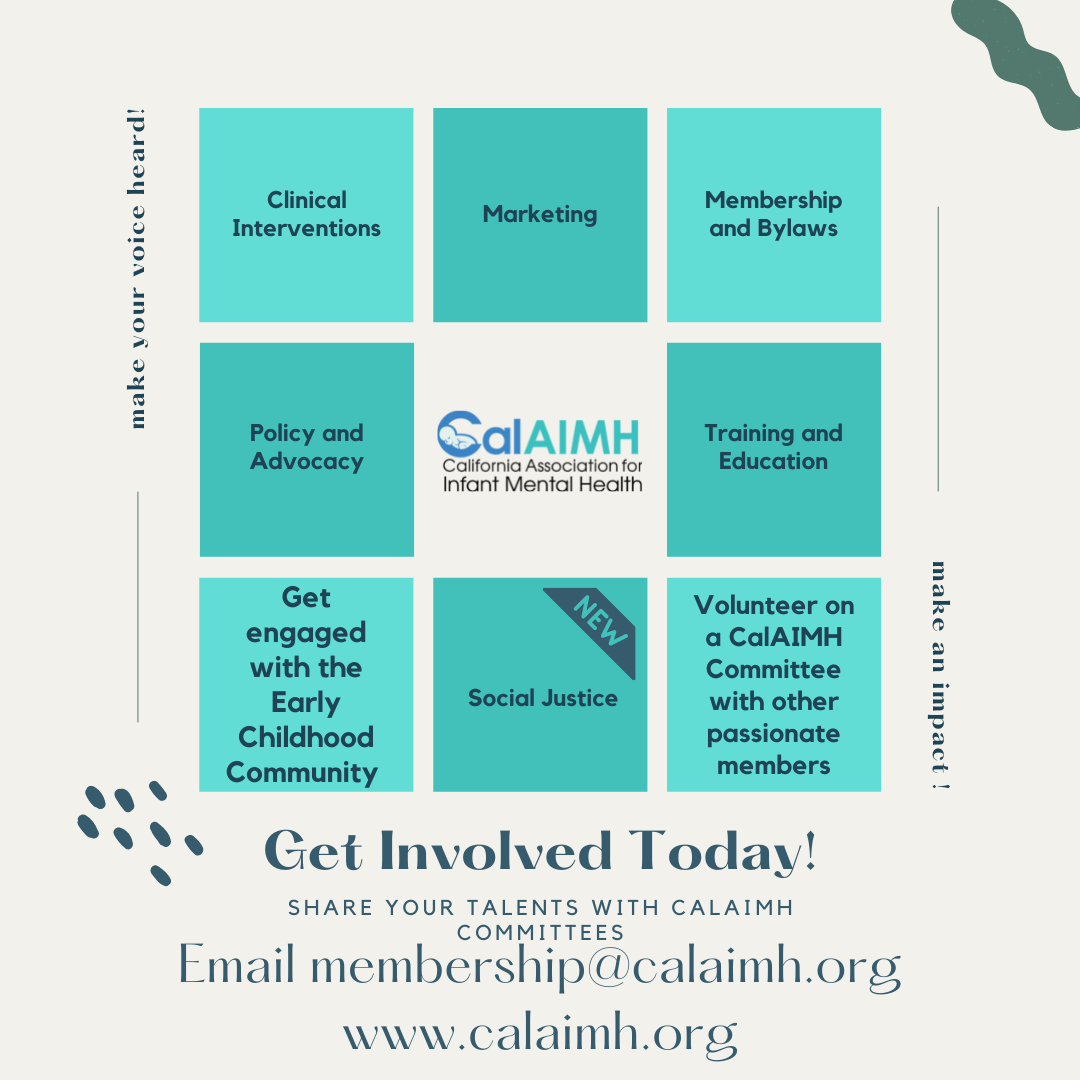 In Case You Missed It (ICYMI)
COMING SOON: Reflective Practice for Endorsement requirement purposes

CalAIMH members will have opportunities to obtain reflective practice hours for endorsement from endorsed facilitators at a discounted rate. Keep an eye out for email announcements and more information on the CalAIMH member portal!
Good News Central
Members: Do you have good news to share regarding your career or other ventures? Please go to your member portal to submit your news. You can include anything professional and it will be posted publicly on our website.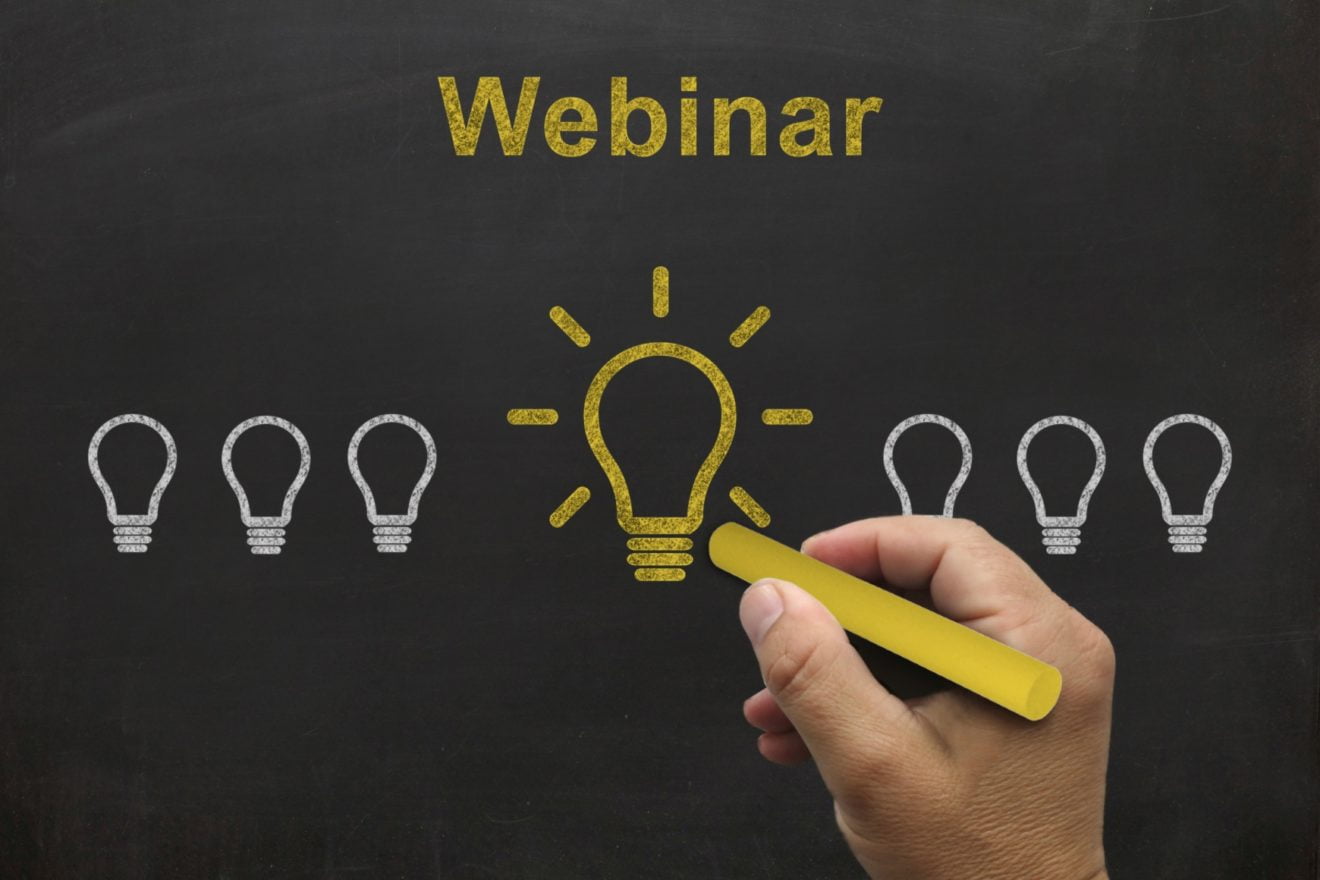 CalAIMH is always looking for more training topics and webinar speakers.
Please note: This newsletter's content represents a collection of submitted information provided to the CalAIMH Marketing Committee, which is comprised of volunteer members.