July 2020 Newsletter
A Message from our President, Marian Williams, PhD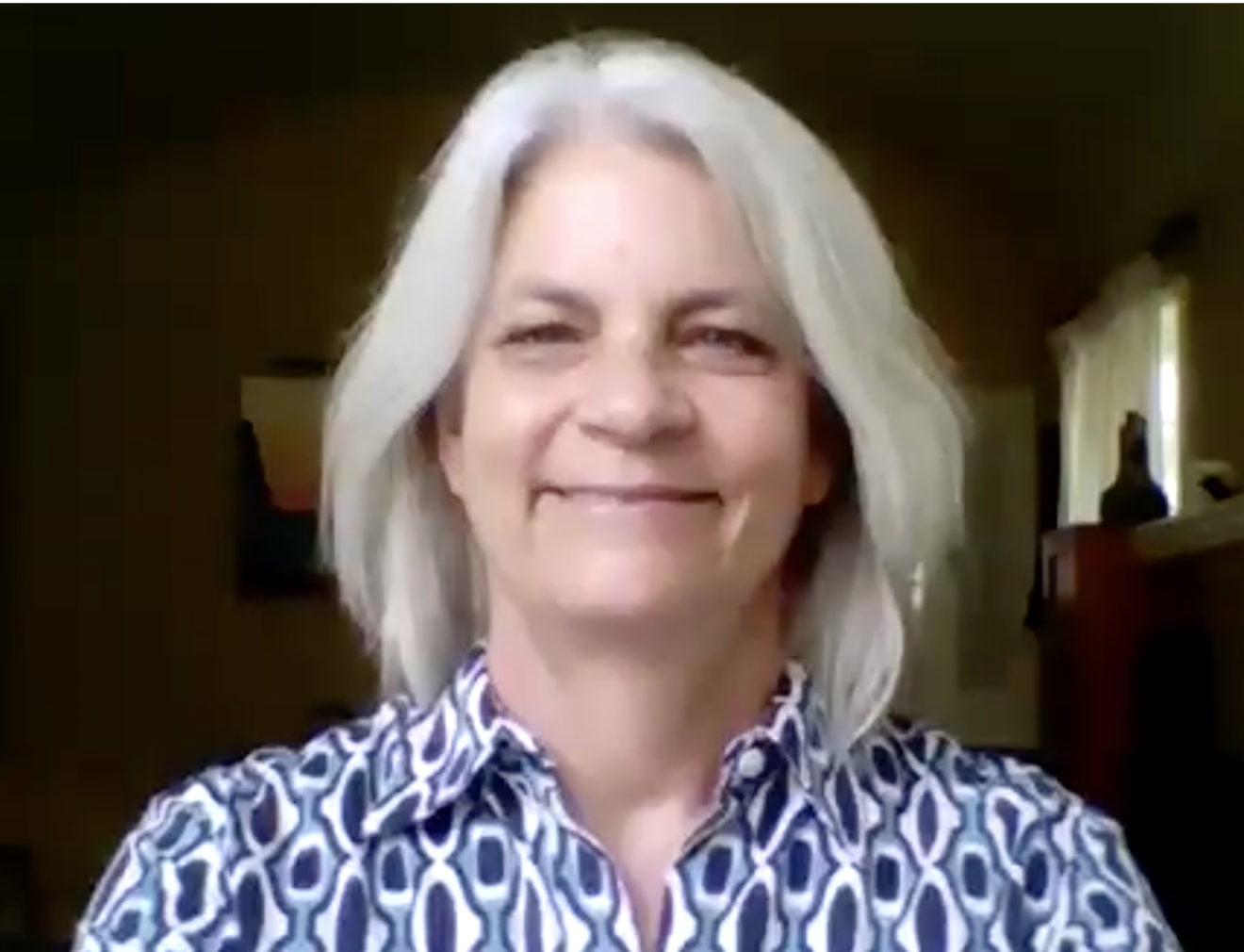 Why Join CalAIMH? Your membership will give you access to resources, events, and groups that will support you. Parents, students, and professionals of various disciplines working with or on behalf of parents and young children (0-5) are welcome.
Member Benefit Events
Webinar - Tuesday, July 21, 2020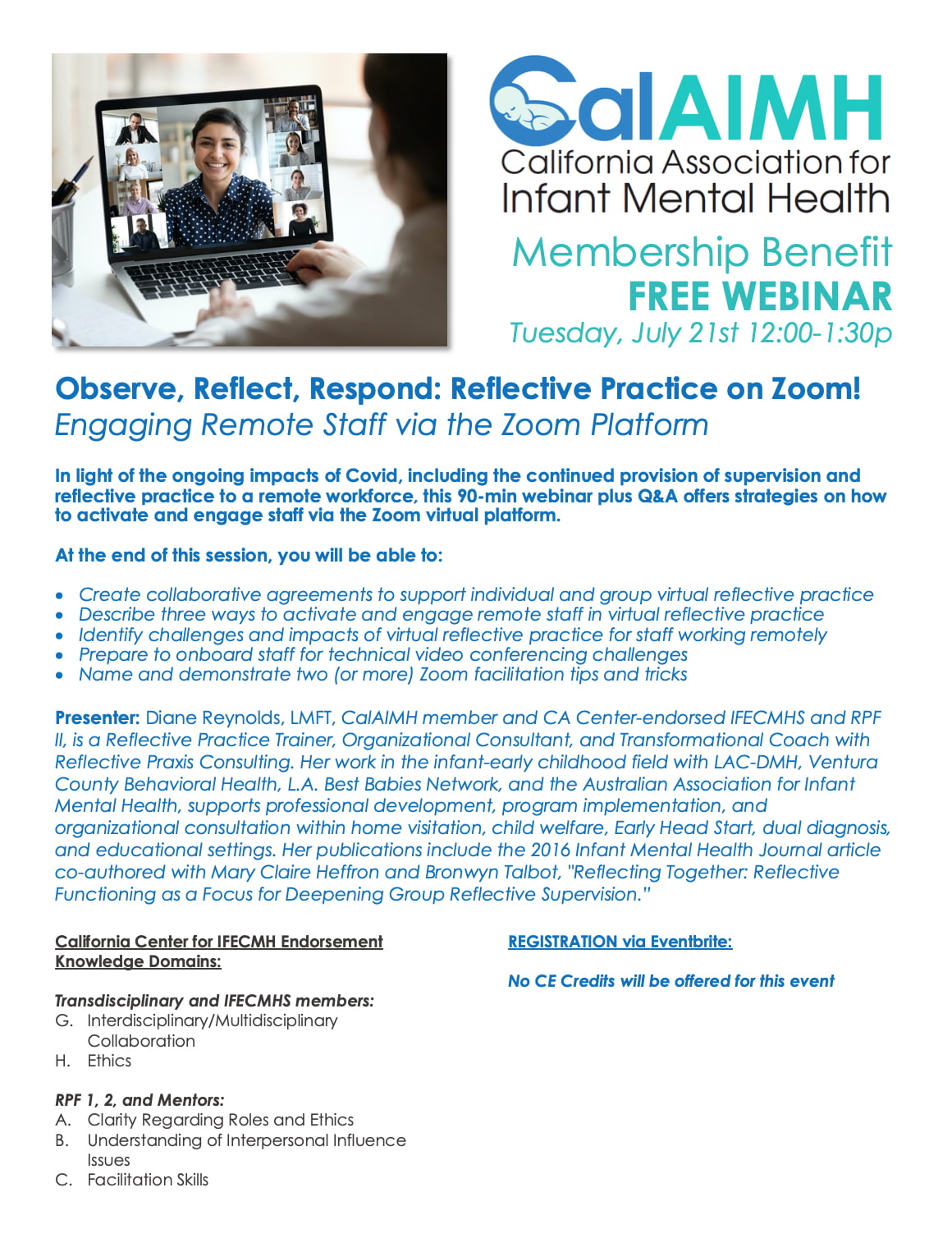 Reflective Practice Groups
Did you know that CalAIMH created reflective practice groups to support members in this time of physical distancing? If you are interested in participating, limited spaces are still available. Contact the facilitators directly for more information.


Richard Cohen (RPF I) has a group meeting on
Tuesdays from 4:00-5:00 pm, bi-weekly.

Vasudha Narasimha (RPF II) has a group meeting on
Saturdays from 10:00-11:00 am, bi-weekly.
*New Group:
Chad Brinderson (RPF II) will be offering a group on
Tuesdays from 5:00-6:30 pm, frequency TBD.
He can be reached directly at

chadbrinderson@gmail.com

to sign up.



Are you an endorsed Reflective Practice Facilitator or Mentor and interested in running a group for members? Let us know! To run a group or for any questions,
*Please note: Membership is required to register for the webinar and groups.
Not yet a member, click here
Calling All Members...
Get Involved with Policy and Advocacy
Have you been wanting to get more involved with CalAIMH? Not sure how or what you could do to support? Are you interested in learning more about policy and advocacy that supports infant mental health programs and how you can support this work?
Consider getting involved with the Policy and Advocacy Committee!
Clinical Interventions Committee Needs your Input
The Clinical Intervention Committee's primary aim is to provide members with resources and reflective opportunities to develop clinical intervention practice to support California's workforce. We value everyone's practice and perspectives and need your help to know the topics of interest you would like to see in the CalAIMH website.
Resource Highlight
Tele-PLAY Therapy Resources and Support

- is a private FB page established in March 2020. It currently consists of over 29,000 members dedicated to provide support and resources to those in need of tele-health ideas for engagement.
Mission:

To connect mental health providers using play-based interventions in a supportive community for the purpose of exploring tele-mental health services for children.




Vision: To provide a platform for discussion, resource sharing, peer support, and professional growth for those navigating the transition from in person to telehealth play therapy services.



ICYMI - For Parents & Professionals
Dr. Mona Delahooke, CalAIMH inaugural member, licensed clinical psychologist, and author of Beyond Behaviors, shares her insight on the neurological functions that often drive children's behavior and what parents can do to help.
Dr. Stroud speaks with

Dr. Wanjiku Njoroge, Infant Psychiatrist, Assistant Professor, and Researcher about how to teach racial understanding to young children.
Member Highlight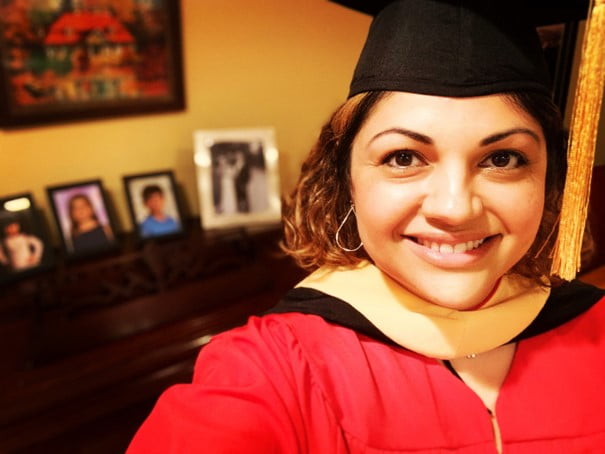 Meet Peggy Zherdev, one of our newly active members currently supporting CalAIMH with our Marketing Committee. She is a recent MSW graduate of Boston University's School of Social Work with a previous Master's in Public Policy and Administration. Peggy is currently working for Providence Holy Cross Medical Center's Welcome Baby Program as the Clinical Supervisor. Her passion of working with women and children started with the WIC Program 21 years ago while providing lactation and nutrition support to the community. This led her down the path of seeking ways to support women to have mental and emotional health and well-being during the perinatal period, as she would often note the impact it had on the parent/child relationship. She aspires to continue working with this population and promote optimal infant development by empowering parents with information to encourage a secure attachment with their young children. CalAIMH has been the perfect fit to help Peggy put passion into action and she is honored to be a member.