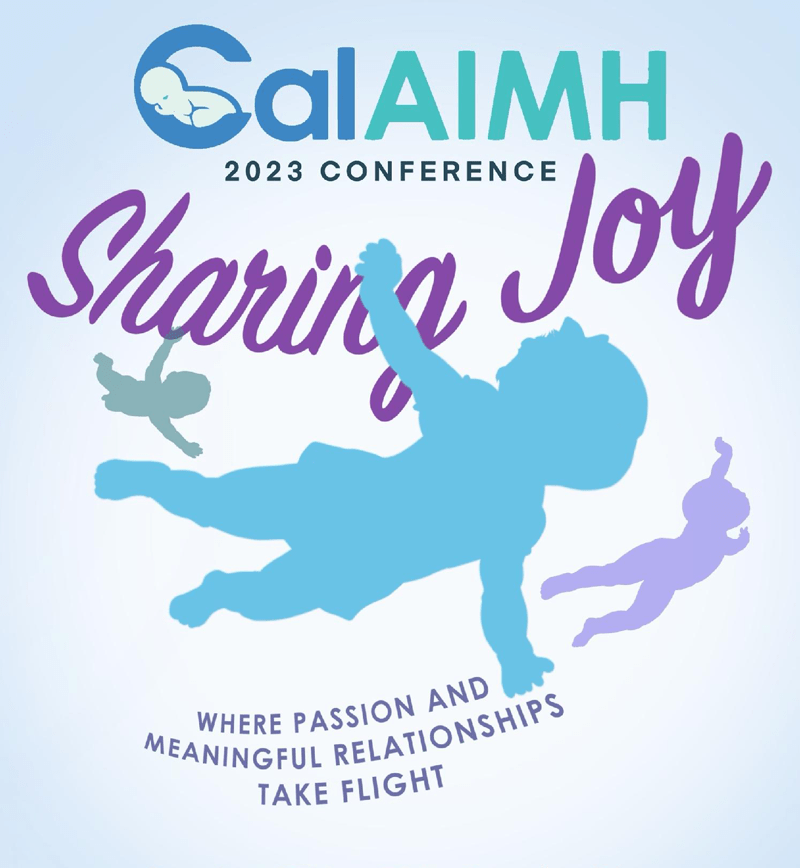 October 27 & 28th
Doubletree by Hilton
Ontario, CA
Did you know? Members receive special discounted admission.
Pricing, Venue, and Schedule of Events are detailed below.
Pricing
Full Price
$350 (Full Conference)
$200 (One Day)
BONUS: Either ticket includes a free one-year CalAIMH Membership!
---
Member Discounted Price
$250 (Full Conference)
$100 (One Day)
---
Early Bird Discounted Price
Expires October 9, 2023
$275 (Full Conference)
$150 (One Day)
BONUS: Either ticket includes a free one-year CalAIMH Membership!
---
Early Care & Education Discounted Price
$200 (Full Conference)
$100 (One Day)
BONUS: Either ticket includes a free one-year CalAIMH Membership!
---
Venue
Doubletree by Hilton Hotel – Ontario Airport
To book accommodation at the conference rate, click the button above.
Phone
909-937-0900
Website
Venue Website
Address
222 North Vineyard Avenue, Ontario, California, 91764-4431
Directions
Schedule of Events
FRIDAY ALL-DAY
8:00 – 9:00am – Registration & included continental breakfast
9:00-10:00 – Movement or relaxation activity (optional)
10am – Welcome (Dr. Richard Cohen)
10:15 – Keynote Address – Dr. Nicole L. Arkadie
12:00pm – Lunch (included) & entertainment (optional activities & exhibit)
1:00pm – Panel (Trauma & Resilience)
2:30pm – Reflective Group Discussion
3:00-3:30pm – Movement break & exhibits (AFTERNOON SNACK included)
3:30pm – Panel (Child Welfare)
5:00pm Reflective Group Discussion
5:30pm – End of day
6:30pm – CalAIMH Happy Hour (optional)
SATURDAY ALL-DAY
7:00am – Registration & Continental breakfast included
7:00-8:00 – Movement & Play activities (optional)
8:00am – Opening Speaker – Dr. Adriana Cuestas
9:00am – Panel (Reflective Practice in ECE)
10:30am – Reflective Group Discussion
11:00am– Lunch (included) & Entertainment & Awards (optional activities & exhibit)
12:00pm – Panel (Neuro-relational Framework in ECE)
1:30pm – Reflective Group Discussion
2:00pm – Movement Break
2:30-3:45pm – Closing Speaker (Dr. Barbara Stroud)
3:45-4:00pm – Closing Remarks (Dr. Richard Cohen)
CalAIMH is approved by the California Psychological Association (CPA) to provide continuing professional education for psychologists. The California Board of Behavioral Sciences (BBS) now recognizes CE credit offered by any CPA-approved provider for license renewal for its licensees. CalAIMH maintains responsibility for this program and its contents.
---
Relationships Level Sponsors
---
Take Flight Level Sponsors
An Anonymous Ally of CalAIMH
---
---
---
---
Presentations & Speakers: Day 1
KEYNOTE ADDRESS
Caged No More
It is the negative mindset that keeps individuals bound and stuck. Fearful of moving forward
towards advancement. A negative mindset causes self-esteem issues, problems in interpersonal
relationships, difficulty in work, and often leads to negative behavioral interactions. This presentation will discuss necessary strategies to combat the intense negative emotions that keep
individuals feeling bound, trapped, and imprisoned in an invisible cage, preventing them from
being motivated, and able to enjoy life to the fullest.
In this presentation attendees will learn:
How to recognize and identify their invisible cage
The distinct types of keys needed to ensure mental wellness and a balanced mindset
How to use the keys to unlock their joy and happiness
Strategies to effectively manage stress and maintain psychological well-being
---
LUNCH PRESENTATION
Enhancing Pediatric Primary Care with HealthySteps
The early years are important to all of us – the capacities and skills developed during this critical period become the basis of a prosperous society. Pediatric primary care is an ideal place to support families with young children. No other system has the same consistent and positive connections to families and their young children or stands to make the kind of broad-scale influence on our collective prosperity. Providing parental mental health support in pediatric primary care offers an innovative approach to promote young children's wellbeing by supporting caregivers. HealthySteps is an evidence-based, interdisciplinary program that embeds a child development professional, the HealthySteps Specialist, into the primary care team to promote positive parenting and healthy development for infants and toddlers. In collaboration with primary care providers, the HealthySteps Specialist conducts screenings, provides anticipatory guidance and referrals, and provides brief interventions for child development and parental mental health. This presentation will outline the core components of the HealthySteps model and its evidence-base; as well as share testimonials from families and providers where HealthySteps has been embedded.
---
TRAUMA & RESILIENCE PANEL
"Healing with Gold*": Safe, Attuned & Responsive Relationships to Move Beyond the Effects of Trauma
Healing with gold — *kintsugi, or Kintsukuroi, is the centuries-old Japanese art of fixing broken pottery using special lacquer dusted with powdered gold, silver, or platinum. The repaired piece becomes unique and special.
In this panel presentation, we are going to focus on four groups who have experienced trauma: Low-income mothers experiencing post-partum depression; Military families with young children, Refugee women, and Latino parents with children in a low-income neighborhood. Transdisciplinary, culturally responsive, tiered approach grounding in attachment, developmental, neuroscience, and trauma theories, utilizing right-brain reflective intervention process are the 'gold' used to help heal.
Learning objectives:
Attendees will connect trauma-informed principles (e.g., safety, trust, empowerment, cultural/historical/gender sensitivity) to their applications as related to outreach and provision of mental health services to culturally diverse families with young children (mothers experiencing postpartum depression, military families, Latino families, and refugee families).
Attendees will recognize the neuroscience of trauma and attachment, identify trauma symptoms in children and parents, and learn relationship-based trauma-informed strategies that utilize expressive arts, storytelling, and reflection to address trauma symptoms.
Attendees will reflect on ways they can incorporate these trauma-informed principles to improve their outreach, treatment plans, programs, and policies for culturally diverse families they serve in education and social services.
---
CHILD WELFARE PANEL
Beyond the Report: Understanding the Family Story and Connecting to their Truth
This panel will examine unconscious, conscious or institutional bias within their own service sectors and offer opportunities to reimagine professional roles in supporting family reunification and best practices while working with young children and families involved in child welfare.
Learning Objectives:
Participants will be able to identify at least one bias that prevents them from understanding the families' life experiences.
Participants will develop one strategy that will help them expand their understanding of the families' experiences within the context of child welfare involvement.
Participants will identify one skill to improve their professional practice in creating an environment in which they will be able to better understand the family experience.
---
Presentations & Speakers: Day 2
OPENING SPEAKER
Encountering Our Own Stories, an Essential Tool for Equity
This session will cover the connections between early childhood mental health, implicit bias, equity and self-awareness. Session will highlight the importance of a cultural humility stance in the work with young children and their families for the purpose of enhancing the delivery of culturally responsive services that support equity and social justice. Presenter will use personal experience in the professional field of mental health as well as specific examples as they relate to current research to illustrate the importance of reflective spaces that promote self-awareness, regulation and staff well-being.
Objectives:
Participants will be able to define the concept of cultural humility
Participants will learn about the impact of implicit bias in young children and their families
Participants will increase their understanding about the importance of self-awareness in their work with young children and their families
---
REFLECTIVE PRACTICE IN ECE PANEL
Centering Reflective Practice and Equity in Early Childhood
This session will expand understanding of the potential benefits of reflective practice in the field of early childhood including early education settings using the presenter's experience anchored along with current research on the use of reflective practice in early education. The session begins with an interactive introduction and short demonstration of the benefits of reflective practice in an early education setting. Presenters will elaborate how this practice is related to the health and well-being of preschool teachers as well as the teachers' capacities to engage with young children in ways that strengthens the teacher child relationship and a builds a child's abilities to identify and verbalize feelings, reflect, think critically, and build awareness of the perspective of others. The presenters will use many examples and short video clips of reflective practice is useful in working with children with behavioral difficulties and in addition how this practice has been adapted a powerful anti-bias tool that builds critical self-awareness and more understanding appreciation of differences.
Objectives:
To present and demonstrate the elements of reflective practice as applied in early childhood field including early care and education settings.
To consider and demonstrate the benefits to important aspects of reflective practice including: 1} Promoting health and well-being of staff, 2) building a sense of mission and collaboration with others 3) Building professionals' abilities to use reflective practice skills with colleagues, children, and parents, 4) Engaging with children and others in ways that build reflective capacity including critical thinking skills 5) Using reflective practice skills as an method to increase critical self-awareness, awareness of the diversity of others, and an anti-bias approach.
To provide opportunities and resources for participants to expand reflective practice skills and knowledge.
---
NEURO-RELATIONAL FRAMEWORK IN ECE
All in this together: The Parallel Process of Building Resilience Using the NeuroRelational Framework (NRF)
Through panel presentation of the NRF, group activities, video examples, and personal and group reflection, participants will be supported to identify their individual stress responses in the context of working with families and young children. Understanding the NRF helps to support practitioners, caregivers, and their children to build upon cultural and family strengths to increase stress recovery and determine a "just right" stress challenge. The NRF supports a paradigm shift and reframes challenging behavior from the perspective of compliance and noncompliance to a redefinition of understanding one's personal nervous system response in safety, challenge, and threat.
Learning Objectives:
Participants will be able to identify 2 -3 biomarkers of stress responses using the NRF – colors
Participants will be able to identify the 4 toxic stress responses
Participants will be able to recognize the impact of the Safety Challenge threat triad in their work with young children and caregivers.
Participants will be able to hold in mind the importance of multi cultural diversity and expression of stress responses.
Participants will be able to identify calm and connect strategies to support learning.
Participants will recognize the shift from multi, to inter, to transdisciplinary teaming by having a shared language and mission of the NRF.
---
CLOSING SPEAKER
CalAIMH- Honoring Our Past and Preparing for a More Equitable Future
Through the art of storytelling, Dr. Stroud will inform the audience of the history of CalAIMH's origin and the many voices that influenced our development. The cornerstone of CalAIMH has always been to celebrate the diversity of California and to be a professional home for the transdisciplinary provider community within our state. How do we maintain our focus on increasing diversity within our professional community, centering equity in the work, and embracing a lens of social justice as a universal cornerstone?
---
CLOSING REMARKS
---
Did you know? Members receive special discounted admission.
---